Group Time at Bixby Preschool is a wonderful time when our students have a chance for in-depth learning with children their own age and in a smaller class size. The focus is learning with real and careful hands-on experience. The "Night Fury" group has the oldest kids in preschool this year, the 4-5 years old.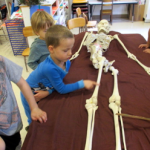 Today we are studying the human body. Fortunately, Kathy our science teacher for 2nd-5th grades has lent us Elmer, the school skeleton.
While laying Elmer gently down on a padded surface, the mood was a little tense. No one has seen a real skeleton before. This is very different from our picture books and there is a feeling of respect for a real being lying there in front of us. Harpur bravely pokes out a finger and asks if he can touch Elmer's leg.
I say yes and ask if anyone else is interested… Not yet.
We read from the book and go over the parts of the body. I pulled out a ruler and then I added another wonderful teaching tool, music, to show the kids how the bones on Elmer are like the bones inside their own growing bodies.
The Skeleton Dance is a wonderful song that is as old as time and really got us moving and having fun.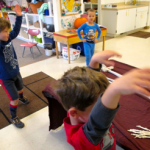 While dancing and shaking there own bones to the music, they began to giggle and laugh as they pointed to parts on themselves and Elmer when the music called out a bone.
When the room quieted down and we had played the song at least 4 or 5 times, they settled in to explore the skeleton more fully and then they decided it would be fun to draw him. It was so amazing to watch them begin to identify their chin with Elmer's chin, their teeth with his.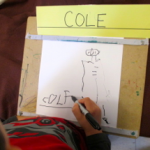 It was a another great chance to practice holding pens and writing their names while noticing their hands and fingers (bones) moving while they write.