As we prepare our students to make meaningful contributions to their world, we examine, explore, question, and share understandings of diversity, equity, inclusion, and belonging. These understandings are authentic, intentional, and led by children's natural curiosity; fostering awareness, reflection, and appreciation for all life.
Bixby School's teaching model supports opportunities to integrate conversations about diversity in organic and authentic ways.
In 3rd Grade math, students learn about starting their own businesses and have the opportunity to meet and ask questions of entrepreneurs from all different backgrounds and cultures

4th Grade highlights/learns Harlem Renaissance in social studies.

5th grade highlights/learns about the Civil Rights movement in social studies and literacy.

Our Literacy Classes highlight authors of different cultural backgrounds by reading stories written by POC authors. This gives a space for students to reflect on societal inequities, learn about different cultures, and highlight struggles that marginalized communities go through every day. 

In 2022, we highlighted Asian Pacific Islander stories by celebrating Grace Lin and her work on Read Across America Day. 

Our Music program highlights Scottish dance and songs, showing the rich history of Scotland and giving insight to students about different music in different cultures. 

Our Spanish programming is rooted in our Spanish teacher's native culture of Peru. Students learn about authentic Peruvian foods and Peruvian cultural games as they learn the language. 

Preschool celebrates Holi, the Hindu festival of color and spring, by throwing colored powders at each other and celebrating the spring season.

Bixby School values and provides opportunities for families to share their traditions with classes. 

80% of families are confident Bixby faculty can lead conversations about various diversity topics. (2021)

Bixby School's family community and faculty strongly believe that the school is a place that talks about diversity issues such as race, ethnicity, LGBTQ+, ableism, and religion.
19% of our Bixby School community comes from different ethnic and racial backgrounds. (2022)  Below you will find the racial demographics of Bixby School and Boulder County.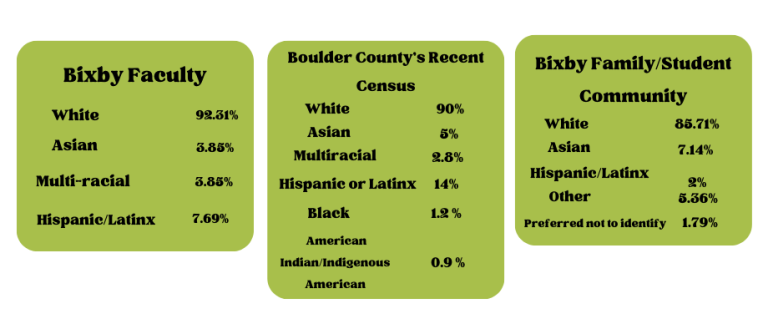 Diversity, equity, and inclusion are important and ongoing priorities at Bixby School. Bixby has a strong foundation of commitment within its faculty and parent community to support a climate of belonging.
Want to learn more about best DEI practices? Here are some great resources!