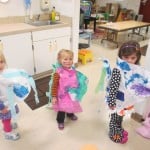 Fall brings many wonderful transformations in and around the Preschool. We enjoy the vibrancy of our colorful playground glowing with the changing of the season. Our traditions at this time of year follow the natural interests of the children and focus on sensory rich experiences and developmentally appropriate projects that ignite learning and a deeper connection to one another. A favorite tradition revisited annually is our Fall Festival Parade. During group times the children design and craft their own costumes for a parade through the building. The children participate within their group to create a creative costume that represents their group time name. This project approach takes several group times
of hard work and focus to follow trough to completion. The deepening connections within our groups and classroom community is evident as the children line up to show off their hard work. As we parade through the building, the kindergarten class tries to guess the name of the different groups based on their costumes. Many kindergartners paraded with their group in previous years and give the preschoolers a warm reception. This is just one of the ways we show pride in our Bixby community at the change of season.
Can YOU guess the Group Time names?