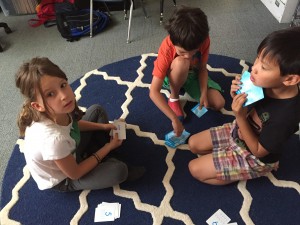 It was wonderful to see so many parents at Bixby's Back To School Night last Thursday and at the Bixby picnic on Sunday! For parents that had a chance to visit my room on Back To School Night, we discussed the philosophy of Bixby Math and a typical day in math class. I plan to use this blog to communicate what we have been doing in class last week, this week, and next week.
First Grade:
Last week in first grade, students worked on ordering, comparing, and combining numbers. They practiced these skills by playing a variety of games. This week students are beginning to solve addition word problems. The goal of this work is for students to explain their thinking to others. As students hear a variety of strategies and are able to restate them, they begin to experiment with new ways to think about combining numbers. Students are also using standard notation to translate the action of the story problem into an equation. Next week students will work on composing numbers; which means that they will find ways to add two or more numbers to make a given number.



Second and Third Grade:
Second and third graders' work varies in depth depending on the student's background and readiness for a particular concept; thus, I will give an overview of the type of work that most 2nd and 3rd grade students are doing, but any individual student may have a slightly different level of work. Last week students focused on place value concepts and many worked on finding different combinations of dollars, dimes, and pennies totaling a particular value. Students practiced this concept by solving a variety of problems and developed organized lists to find all combinations. This week, I will be checking in with students to evaluate how accurate and efficient they are in recalling their addition combinations. Students will also work on adding two digit numbers and becoming fluent in finding combinations that equal 100. They will continue to work on money skills this week and into next week. Late next week we will begin a unit on measurement.