Bixby first graders have been extremely busy! Over the past few months, they have been immersed in a cross curricular unit about Ancient Egypt. All first grade teachers have been finding creative ways to integrate this topic into their respective classrooms. Finding ways to connect all subjects with one topic can be challenging, but it can be extremely exciting for the students. I have seen them making connections between classes and really solidifying their learning. I know I have often heard them relating things in my Writing Class to things they are studying in Science, or Reading. Integrated studies and collaboration fosters comprehensive learning, emphasizing depth over coverage.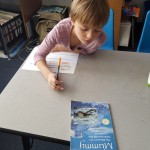 In Math, students learned about Egyptian numerals to explore place value. In Reading, students investigated non-fiction reading by studying the pyramids, hieroglyphs, and ancient Egyptian culture. In Writing, first graders learned about the elements of non-fiction writing by composing short reports on topics such as, the Ice Mummy, Egyptian gods and goddesses, and amulets. Still more, Geography and Science made the Egyptian unit more hands on by designing and creating boats that would travel down the Nile.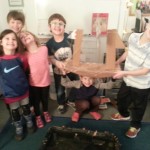 To study the process of mummification, students experimented with different ways to preserve apple slices. Some slices were placed in different salts, while another was kept in a freezer to model the Ice Mummy's preservation they learned about in Writing Class. In Art Class, they designed and created cat mummies. To think comparatively, Spanish is beginning a unit about Mayan culture. There, students will compare and contrast two ancient cultures. This unit involved every subject and created a truly unique learning experience.
The culmination of all these studies will be take place this week. This Thursday, an Egyptian museum, displaying all their hard work, will be featured in the library. Please come visit during the open house or stop by sometime before or after school! It will be up through Friday. Also this Friday, first graders will have the chance to dress up like Egyptians and perform a song they learned in Music Class at the assembly. Students have started constructing costumes in Group Time for the performance. Please send your first graders to school this Friday dressed in plain pants and a white shirt to help their costumes look more authentic. And of course, all are welcome to the assembly to see the first graders in action!
Teachers and students alike have put all their efforts into this unit. Without everyone's contribution, this would not have been possible. Thanks to everyone who helped make Egypt a hands-on, experiential, and exciting unit! I hope it is something our first graders will cherish as a Bixby memory.