This month is all about reading and literacy at Bixby. We really enjoy reading to the children. In our preschool room, there are always books for the children to look at on the tables and shelves throughout the class room and children are always encouraged to bring a book to a teacher or parent to read.
I can see the awareness of literacy blooming in children's eyes and hearts this time of year. It started me to think about how I read a story to the kids. I read a story the way my grandmother read to us as children. She asked questions, added excitement though rich sounds and tones. Sometimes, she changed the ending. She kept us engaged!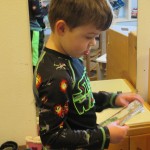 When you pause during the reading of a book, you can talk about what is interesting to the child. You can learn how they are understanding the story. You can listen to the experiences in their own lives that the story brings up. It gives so many opportunities for them to think and talk about the story. It develops oral skills which are the foundation of success in literacy and most importantly, shows that reading is fun!
-Salowa