Handwriting Without Tears is a literacy curriculum that children are using throughout the world, as well as right here in Bixby's preschool. It is described as an "easy-to-teach, easy-to-learn curriculum that makes handwriting mastery joyful for students and their teachers."
The curriculum utilizes various tools that students can touch, move, construct, and more. Roll-A-Dough Letters, Mat Man and a Stamp and See Screen are just a few of those tools that can be used and explored.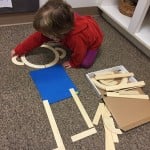 The children in these photos are constructing "Mat Man". Mat Man is designed to introduce the lines and curves that are used when writing letters. There are "big lines", "little lines", "big curves" and "little curves".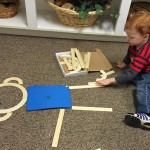 When teaching the students, using a consistent language is a large contributor to their later success of writing letters.
These children are using the Stamp and See Screen, which is a magnetic board with wooden, magnetic lines and curves; and includes a small magnetic pen. Children learn to make their letters step by step, as they place the magnetic line or curve on the board. It can be quickly and easily erased, to allow for trial and error.

Roll-A-Dough Letters are a favorite of many. The children in the photos below are manipulating the dough to form "big snakes" and "little snakes". Once formed, students place their snake on the letter card to form which ever letter it is that they are working with.