El Día de Muertos has been the latest cultural topic in Spanish class. Besides learning their Spanish vocabulary and grammar, students are diving into one of the most popular and amusing festivities in Latin America: The Day of the Death. The main objective of introducing this celebration in our curriculum is to familiarize the students with other societies of our diversified world.
In all classes, from first to fifth grade, we have been talking about the differences between Halloween and the Day of the Death. On the one hand, children are learning why they dress-up during Halloween and why they carve pumpkins.
On the other hand, they are learning that the origin of the Día de Muertos lays in the Aztec culture. They are introduced to the idea of decorated skeletons and sugar skulls. We also talked about the altar that people set in their houses as well as other activities they do during this day.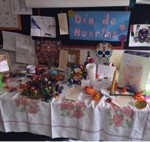 To make the experience more vivid, children are doing different activities: they are preparing their own altar and decorating it according to the Mexican tradition, with flowers, candles, photos, food, skulls and other objects; they are also singing the song Los esqueletos.
The second graders had the opportunity to write about this day in Writing Class; and in Art Class, all the groups are making their own "sugar" skulls made of clay.
¡Feliz Día de Muertos!
María Gamboa