Let me be the first to wish you a happy November. October was perfectly lovely and gave me my first chance to experience a spooktacular Halloween at Bixby!
School-wide gourd-hunting after calling the gourd out with the historic "ooba" chant to King Kababba marked a fun intermission to our special Friday!
For those of you who didn't get the "411" on the dance, let me fill in:
Snack was predominately provided by the cookie-making effort of our own BXB Kindergarten crew who decorated some very Halloween-y cookies. Cute and delicious. This might be a good time for me to confess that I ate 4.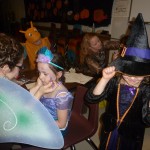 Face painting was a blast. We painted zombies, a few butterflies, a crash-dummy and Spiderman. So many faces spotted at the dance! It was good to know the pink power ranger was nearby if danger came into the picture, snow-cheetah's can fly, and Star Wars is back.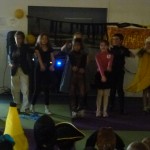 There was an awesome and riveting performance of "Thriller" which our Bixby 4th & 5th graders nailed. They were quite committed, to the point that I've since "YouTube'd" the music video and aspire to also learn these moves.
Apple-bobbing: air edition. A super fun and welcoming change from the bobbing of old I remember complete with water to soak your head and clothes. Was a hit and had me hankering for more fall apples!
Don't forget the candy calculators!! The results were adorable and mouth-watering. Until we all arrive at the candy coma 24-hours later. Don't show me another skittle.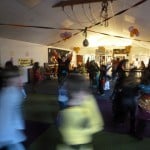 The soundtrack on the dance floor kept the feet dancing.
I hope the Halloween fun continued at your house as well and that you all had a wonderful weekend.
I loved being a part of it and was so glad to be alongside such committed and Halloween-ready teachers and staff at Bixby to help it all come together! Quite the success, I'd say.
Now, for all of the Fall–>Winter fun in November!
-Lexie