Public speaking is a priority in the writing room this year. We seek to foster skills that will translate to middle school and beyond, skills that will prove useful throughout life. We often spend the last 15-25 minutes of class in our writer's workshop, where everyone is expected to share their work and provide meaningful feedback for their classmates.
We spend significant time in each writer's workshop talking about what makes a great public speaker. This includes thoughtful preparation, clear speaking technique and posture, body language, voice inflections, pauses, enthusiasm, etc. We don't "read" our writing; we present it.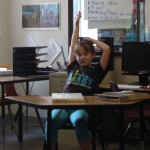 We've also spent a lot of time discussing what "constructive criticism" means. While polite, it is not helpful for a writer to hear that her story is "good." Helpful commenters listen closely, focus on details, ask questions, and give advice along with specific compliments. A writer's most memorable advice will often come from a peer, not a teacher.