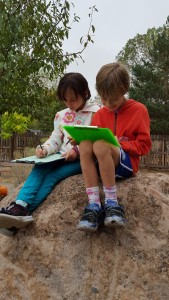 In 1st grade, we have been working diligently on All About Me books, and students are now finishing their final copies. Using rough drafts, students are transferring their ideas using conventional spelling and their best handwriting to make sure their work is readable. Once all final copies are complete, they will be available in the gym for readers to enjoy and give compliments. Look for an announcement in the Bixby emails for when they will be on display.
As All About Me books are finished, we will begin a short unit on poetry and descriptive writing. Also, we soon will start publishing First Grade News, which is a weekly publication written by first graders telling about their weekends. This regular assignment allows students to practice writing in complete sentences and using proper capitalization and punctuation, while writing about a familiar topic. First Grade News will be delivered to all classroom teachers on Fridays and will also be sent home in Friday folders every week. Further, next month, first graders will begin a cross curricular study of Ancient Egypt.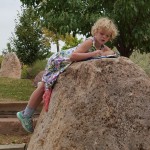 2nd and 3rd graders are fully immersed in writing poetry and have been playing with descriptive language. After writing a variety of poems, students shared their work aloud with classmates to determine which poems should be revised and completed as final copies. Students have also been practicing how to use descriptive verbs to make their writing more interesting. Instead of saying, 'the wind blew', could we say it howled, or maybe it whispered?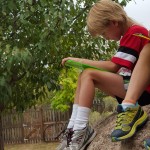 To practice this, we also have been writing poetry outside on Fridays. Here, we have the opportunity to use our senses to guide our describing words. Many students have enjoyed exploring the multiplicities of language and how to tailor it to enhance their writing. We will be finishing up poetry over the next week by finalizing our favorite poems. The final copies will be saved and put into portfolios. Other poems that were not made into final copies will be placed into Friday Folders in the coming weeks.
Soon, 2nd graders will learn about Koko, a gorilla who knows sign language, in Reading Class. In writing, we will practice proper letter formatting by composing friendly letters to Koko. We also will write 'Thank You' letters to the sponsors of Walk to School Day, which happened last week.
In 3rd grade writing, we soon will investigate opinion writing by supporting a viewpoint using reasons and examples. To do this, we will collaborate with Reading Class to write an essay answering the question, are pets like people? After studying animal communication and anthropomorphizing in Reading Class, students will argue whether or not pets are like people, citing evidence from class discussions, books, and speakers.