The second and third graders have enthusiastically immersed themselves in the Hero Study by independently reading biographies of interest and then dressing up as their heroes. After presenting three thoughtful and informative clues to the fifth graders and some parents, they asked the audience, "Who Am I?" Much fun and learning took place as we guessed their identity and gained knowledge about: Leonardo da Vinci, Dr. Jonas Salk, Jackie Robinson, Anne Frank, Malala, and many other inspiring people. Students are continuing the study by writing Who Am I? books or illustrated timelines. They will also begin creating educational board games about their heroes in Colleen's writing classes.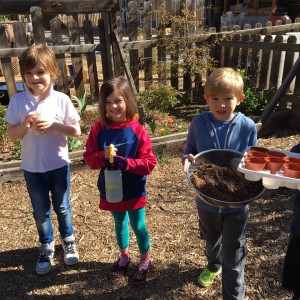 How will you make the world more beautiful?
For Earth Day, first graders read the book Miss Rumphius and learned to ask more wh- questions about books. Who is the main character, what is the problem to be solved, where are they, when is the story taking place, and how was the problem solved? In keeping with the main message and spirit of the story, they planted lupine seeds to make our world (at Bixby and at home) more beautiful, as did Miss Rumphius.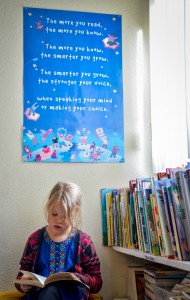 "Children are made readers on the laps of their parents." ~Emilie Buchwald

Reading aloud and discussing books with your child "little and often" is key to developing their skills, understanding, and vocabulary. The habit of reading just 10-20 minutes most every day for first and second graders and about 30 minutes for third graders now and throughout the summer will help them maintain and enhance their skills. It also fosters a love of reading and warm family memories. Look for more information on library reading programs this summer in their Friday folders next month.
-Connie