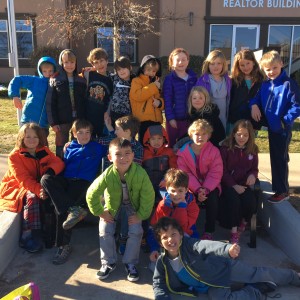 One of my favorite parts of teaching is when an opportunity arises for a meaningful field trip. Leaving the classroom is always an engaging way to extend learning, and it is exciting for the students to travel to off campus.
This year, when Connie and I were looking for something fun to do with our students, we came across a flyer for the production of Cinderella at the Boulder Dinner Theater. Now at first, this seemed random. What was I going to do with that? How would I relate this to my content area? But then Connie told me about the extensive Cinderella folk-tale collection in our Bixby library. I was immediately intrigued, and then I quickly became inspired.
Upon reading just a few stories, I knew I could construct a unit that included story writing, critical thinking, and making comparisons. We started by reading Yeh-Shen, the oldest Cinderella story from China, and we continued to read many versions from different countries. Later, we discussed how folk tales could be modernized, and we read Cinder Edna, a
tale about a present day woman who solved problems herself rather than relying on a fairy godmother. With such a wide variety of stories, there were so many opportunities for students make connections, and compare and contrast the differences and similarities among the tales. Stories came from different cultures, had different characters, and a different sequences of events. Some had a glass slipper, some had a woven sandal, and some had no shoe at all! There was even one where the Cinderella character was a boy who lost a giant boot. The vast array of stories allowed all students to find a tale that interested them and beckoned them to think critically and make deep connections.
When the day of the big field trip came, the students were fired up and ready to see the play. We all assumed it would be like the French version that the Disney movie is based off. However, we were all surprised when we realized the Boulder Dinner Theater's Cinderella took place in the 1970's and involved a disco party and dancing! It was yet another example of how the Cinderella story can take many shapes.
Second and third grade writers are now finishing up Cinderella stories of their own, and I am so impressed by the variety and richness of ideas. Some stories have animal characters, while others take place in the future. One even takes place in Queens, New York. Students were ignited by the possible forms of Cinderella stories, and have written stories with excitement. This enthusiasm shows through in their writing. Keep an eye out for stories to be displayed in the gym sometime soon!