Preschool students love gardening! Part of our Preschool programming helps our preschoolers study Colorado's natural ecosystem, specifically on Bixby's campus. Our campus has undergone multiple beautifying projects in the last few years, but this project helps show our preschoolers the importance of maintaining a healthy ecosystem at Bixby. Bixby received three new tree seedlings from Your Neighborhood Christmas Tree Farm, which has a program to give away tree seedlings to combat climate change. This program has been going since 2007, and Your Neighborhood Christmas Tree Farm has given out 9,018 tree seedlings. Last week, our Preschoolers planted these seedlings at Bixby!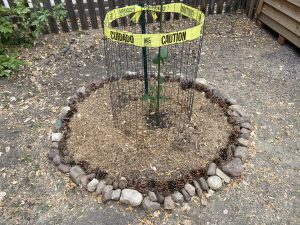 Connie (our Bixby gardener) showed them how to plant a tree in a shallow and wide space so the tree can stretch and grow healthy roots. They planted one Linden tree and one Kentucky Coffee tree. Students named the Linden tree Hardy Lovey Heart because of the heart-shaped leaves and placed pinecones around Hardy's edge. Working with Connie, master gardener, and tree expert at Bixby, is an excellent addition to our preschool gardening program! 
Thank you, Connie, and thank you, Bixby Preschool!