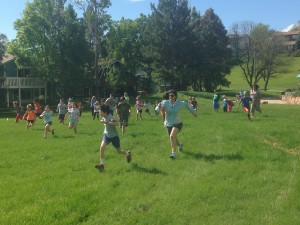 Here at Bixby, we love to finish the year with a flourish – Field Day!! Formerly known as the All School Picnic, Field Day has morphed into an exciting non-competitive school event. All the elementary students are broken into various mixed grade "teams." The theme remains a secret until the big day. Some of the previous themes have included Dog Breeds, Colors, Natural Disasters, and Trees. Each team develops their own unique cheer, and walks to the nearby Tantra Park for a day filled with a variety of games and activities, ranging from Smaug's Jewels, to silly relay races, to playing with the giant Earth Ball. Amanda will be grilling a wonderful lunch at the park this year! We will end the day back at school, with some more mellow activities and yearbook signing. The famous All School Countdown that signifies students moving up a grade level will be held at 3pm at the Amphitheater. Field Day is for students only, however, all families are welcome to join us at the Countdown!
Field Day will be the last day of the school year, Friday May 27th. Students should come dressed for the weather, including hats, sunscreen, and a sense of adventure.
This will be my ninth year coordinating Field Day, and I strive to improve every year, making it more organized, fun, and memorable for the students!
-Nifer