One of the privileges of being in 4th or 5th grade is having Electives. These are classes that students get to choose. They are taught by a variety of teachers, and the subjects offered vary widely. The Tuesday choices for our first session were: Jump rope, Improv class, Sport Court, Gardening, Capitalism through Monopoly and 3-D Printing. The Thursday options were: Jogging Club, Clay Sculptures, Flag Football, Applesauce and other Apple Treats and 3-D Printing. Students get one Tuesday elective and one Thursday elective.
In the Apple Treats elective, we began with taste testing. The choices available were: Fuji, Braeburn, Granny Smith, Gala, Red Delicious and Pink Lady. Students rated each apple on a scale from 1 – 10, with 1 meaning they didn't like it and 10 meaning they loved it. Then we made a line plot (I slipped a bit of math in!) of their favorites. Braeburns were the most popular and Pink Ladies came in second.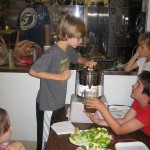 For the second class we made apple juice from Granny Smith apples. It tasted quite sour; the apples were not particularly juicy and green apples make for an unusual looking apple juice. Next, we made juice from Fuji apples. These apples were much sweeter and juicier and looked more like conventional apple juice.
This week, we will make applesauce, using a Foley mill (a hand-powered tool that separates the seeds, skins and cores from the delicious pulp).
Students enjoy electives because they get to pick their classes and the subjects offered are different enough to please everyone. Teachers also enjoy electives because they have a chance to teach out of their usual subject area and simply have fun with students.