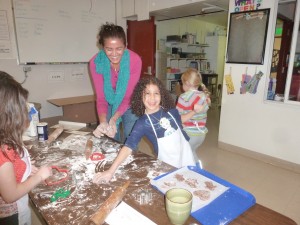 The kindergarten class made a variety of ornaments that will be on sale at the Handmade Holiday Market TODAY! Invite your friends and family.
During Cooking Club, the kiddos mixed up a few batches of cinnamon
salt dough. With the help of our AMAZING parent volunteers, they rolled out the dough, and cut out about 75 ornaments. Wow did we have fun! After patiently waiting for the ornaments to dry, we carefully painted them, and they are ready to sell.
What did the children gain from this experience?
The ability to follow directions
Math skills (measuring, counting, and sequencing)
Strength and endurance (the salt dough was thick and difficult to stir for our little munchkins)
Understanding of time and of cause and effect
Sensory exploration
Fine motor skills
Sharing and working together
The kindergarteners showed a greater sense of community, knowing that they had to sell their ornaments, and that all proceeds would go to benefit their teachers and their school!