" What did you call it?" "It's an animal!"
"I love these patches." "Those aren't patches.  Those are paper!"
"How did you make that?"  "We painted!"
Such a great tradition; a celebration of art, community connection, and more!  This year marks the 11th year of the Preschool Art Show, and it was just as spectacular as the very first.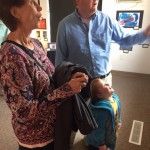 The Art Show provides each student with an opportunity to showcase and share their creativity, design, and expression of art with their family and friends, all while enjoying light refreshments and conversation. 
Taking a step back and watching this happen, one can quite easily see the face of the child light up; they go into detail about how they used the paint brush to create a specific line, or how they were laughing with their friends as they strung the beads onto the wire.  This is such a beautiful and  wonderful thing; children reflecting and giving in depth meaning to all that they have created.  This years show included paintings, drawings, photography, sculptures, and more.
I leave you with this parent quote, as we concluded the evening…
"I thought I was already in love with Bixby, until tonight…and now, this Art Show makes me feel even more in love with Bixby.  I am so thankful for all of the hard work the teachers have done to make this night so special!"
…and the amazing work of a child.  Priceless.