Well we have been back in the swing of things for a month now after a happy new year.  As we settle back into our rhythms, the rhythm of the seasons is beginning to noticeably shift.  The days start earlier ever so slightly each day.  The Sun lingers longer in the evening sky. I am starting to feel the seeds coming alive in the ground to sprout their life-nourishing shoots. In the fashion of following the energy that wants to move, we put on hold our study of the Colorado landforms and animal adaptations to explore something a student brought in.
The day after studying the borrowing owl of the Plateau region of CO, one of Bixby's curious minds brought in an owl pellet she found in her yard. Instead of continuing the plan for the sake of it being a plan, we stopped to follow the curiosity of the class.  We have spent two days of class picking out all the bones in the pellet and now we are beginning to construct the skeleton of the prey.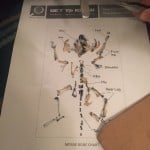 As we have explored the pellet, many questions naturally emerged, while the students took the opportunity to share what they learned in the earlier unit about the body with the teacher.  Connecting bones and solving the puzzle of what this animal was has brought the class closer together to share in the genuine spark we all craze in discovery.  I've been particularly impressed with the way the group has delegated tasks and roles to different members of the community.  Some have emerged as master puzzle people, others as respectful recorders, and curious questioners.  The opportunity to follow a spark like this gave me the opportunity to reflect on facilitation in the classroom, allowing learning to take place organically, leading us to deeper questions and more interesting answers than any lesson I have planned.
Enjoy some photos of the detectives at work. Have a great weekend and happy February.
Blessings,
Garrett