Welcome back! Excitement filled Bixby today as we began our 2015-16 school year. This year, Bixby teachers will focus on a responsive classroom by teaching and modeling behavior to provide a calm, consistent, respectful and engaging classroom.
In the music room today, Ms. Danielle showed the students how to safely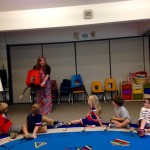 get a chair and bring it around the piano. The students also worked on behavior before and after starting an activity. Today's main activity was learning the new Bixby song. We will sing this at every school assembly on Friday afternoons from 2:45-3:15. To practice the Bixby song at home, you can follow this link.
Kindergarten – 5th grade students will also enjoy learning the theme song, Thank You For Being A Friend from the T.V. series, "The Golden Girls". Preschool and Kindergarten are learning music with sign language and worked on The More We Get Together. Parents, you can watch this video with your children at home to sing and sign together. Enjoy!