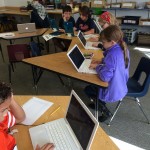 Computer skills are paramount in the writing room. Effective communication in the 21st century necessitates a familiarity with computers and word processing software. As writers, modern technology affords us so many potential advantages:
Writing faster
Efficient organization
Spelling and grammar solutions
Accessible research
Easy, effective arrangement and presentation
Instant publishing, such as on our Bixby Writers Blog.
Realizing this potential is a challenge. Keyboards and word processors like Pages and Word are more barriers than aides to the uninitiated. 4th and 5th Grade writers have been honing their computer skills in writing class since the first week of school. Many students arrived with proficient computer skills – some even more developed than their teacher's – yet every student's computer literacy has been challenged through their work in the writing room this year.
Students often describe themselves as "bad at writing" when their difficulties simply lie in the act of translating words to the page. So often, talented wordsmiths are stymied by motor control, unfamiliarity with keyboards and computers, low word processing confidence, and other executional difficulties that have little to do with the fundamentals of good writing. Overcoming those obstacles – making that translational process more efficient – allows the brain to fully consider content rather than execution.