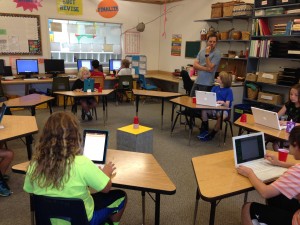 4th and 5th grade writers began the year by…writing! The emphasis of writing class has been exactly that: writing. The assignments have been purposefully simple and straightforward thus far:
Monday: The Coolest Thing I Did This Summer…
Tuesday: Introduce Yourself
Wednesday: One Thing I Like About Writing and One Thing I Dislike About Writing
Thursday: In The Future…
Friday: Free Writing
These open-ended prompts serve to establish the routine of our class, which begins with instantaneous writing upon entering the room rather than instruction. If there is a lesson to be presented, it's done later in the class after the writers have a chance to get their burning ideas down on paper. The array of writing samples gives a framework for where we're at and where we need to go.
4th and 5th graders will have the opportunity to publish their work on the Bixby Writers Blog this year. Check it out! In addition to the student writing samples, the blog will be updated with our classroom info and curriculum.