The first day of school is always a whirlwind of excitement and anticipation. It takes time to adjust to new schedules and the many classroom environments of Bixby. For the first day of Writing Class, Colleen's 1st-3rd grade classes took time to acquaint themselves with their surroundings. Students did an active scavenger hunt to find different classroom materials, such as headphones, writing paper, pencils, and other resources.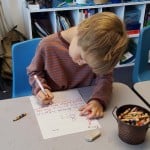 Next, students participated in activities to get to know one another. Being familiar with classmates allows students to feel safe and comfortable sharing their writing and ideas. In 1st grade, they shared summer highlights and lowlights. In 2nd and 3rd grade, students took turns interviewing each other about various interests, and then transcribed their partner's responses. When students are relaxed with one another, writing becomes fun, collaborative, and inviting.
Soon each grade will study a different author to investigate engaging writing styles and the different purposes of writing. We are all excited to see our students back in the classroom!