In Bixby's music room, we have been getting back to the basics by feeling rhythm in our body, learning note values by using the Kodály Method, and focusing on meter in 4/4 time.
Preschoolers have been working on keeping a steady beat by passing our egg shakers around the circle to Hickory Dickory Dock and playing the game, Pass The Witches Broomstick.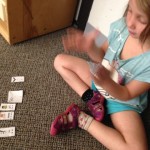 1st and 2nd graders are have been using Halloween words to help them remember note values. For example: pump-kin = Ti Ti = two eighth notes.
1. Say the word and clap it.
2. Say the Kodály syllables (Ti Ti) and clap it.
3. Say the note value (eighth note) and clap it.
After learning all of the Halloween rhythms, we put them together to make a rhythmic composition.
3rd-5th graders have been taking the Kodály syllables to another level by taking full sentences and finding the rhythms. For example, take a Halloween phrase: Skeleton bones tapping in the night = tika ti ta tika tika ta. We have also been focusing on meter in 4/4. All students have learned how to conduct music in 4/4. We then use a Dalcroze Eurhythmic exercise to feel 4/4 in our bodies. All the students must jump on the fourth beat of the measure as the tempo of the song changes. This helps them internalize physically the changing tempo and 4/4 meter. Watch the video below of this exercise, where you will even see one of our students trying to conduct while jumping on the fourth beat!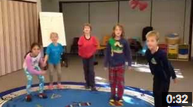 Once our music theory section of the class is over, we move on to singing and playing instruments. Watch the video below of the 2nd graders practicing The Wells Fargo Wagon from The Music Man.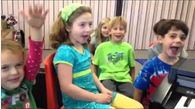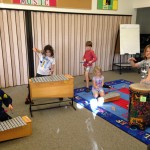 3rd-5th grades have been singing The Ghost of John which is in 4/4 and adding Orff instruments to accompany their singing. Each student will receive a turn on the rhythm sticks, African drum, Soprano Metallophone, Alto Metallophone and Bass Metallophone.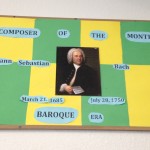 Don't forget about our composer of the month, Johann Sebastian Bach. All Bixby students have listened to Toccata and Fugue in d minor and Air on the G String. Want more Bach? Listen to Ms. Danielle's favorite Bach composition, The Goldberg Variations performed by András Schiff.